This framework is an extension of other descriptions of Action Research, building on the core cyclical process of planning, action and reflection. It also includes the collaborative conception of a project idea, as well as steps to ensure sustainability of the change in practice after a project has ended. Additionally, activities are included within and between the steps of the action research cycles.
It should be noted that this is a very straight-forward and structured representation of a project process. In practice, cycles will be less distinguished and there might not be a clear endpoint to a project. Of course, the context of a research project and the involved stakeholders, play a large role in shaping the actual process of the project.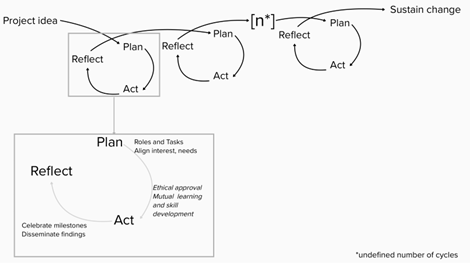 You can find more information about each of the actions below. After a brief explanation, pointer questions are provided, which you can answer in order to shape your research. This can be done by a researcher himself, or together with the other involved stakeholders in the research team.
An editable word file of the framework is available for download here. You can also download translated versions of the framework here.
Additional reading
To support you in your research project, we have compiled a list of recommended reading for the different elements of this framework. We try to update this list based on our own work, and input from users of the framework.
Find an example of starting a project together with stakeholders:
Hand, C., Rudman, D. L., McGrath, C., Donnelly, C., & Sands, M. (2019). Initiating participatory action research with older adults: Lessons learned through reflexivity. Canadian Journal on Aging/La Revue canadienne du vieillissement, 38(4), 512-520.
Read more about stakeholder analysis:
Franco-Trigo, L., Fernandez-Llimos, F., Martínez-Martínez, F., Benrimoj, S. I., & Sabater-Hernández, D. (2020). Stakeholder analysis in health innovation planning processes: a systematic scoping review. Health Policy, 124(10), 1083-1099.
Read more about Champions:
Miech, E. J., Rattray, N. A., Flanagan, M. E., Damschroder, L., Schmid, A. A., & Damush, T. M. (2018). Inside help: an integrative review of champions in healthcare-related implementation. SAGE open medicine, 6, 2050312118773261.
Find an example of role definition (via the participation matrix):
de Wit, M., Beurskens, A., Piškur, B., Stoffers, E., & Moser, A. (2018). Preparing researchers for patient and public involvement in scientific research: development of a hands-on learning approach through action research. Health Expectations, 21(4), 752-763.
Read more about ethical issues in participatory research, including recommendations for dealing with these issues:
Kwan, C., & Walsh, C. A. (2018). Ethical Issues in Conducting Community-Based Participatory Research: A Narrative Review of the Literature. Qualitative Report, 23(2).
Read more about how to disseminate AR findings:
Smith, L., Rosenzweig, L., & Schmidt, M. (2010). Best practices in the reporting of participatory action research: embracing both the forest and the trees 1Ψ7. The Counseling Psychologist, 38(8), 1115-1138.
Find recommendations for sustaining a project:
Meurer, J., Müller, C., Simone, C., Wagner, I., & Wulf, V. (2018). Designing for sustainability: Key issues of ICT projects for ageing at home. Computer Supported Cooperative Work (CSCW), 27, 495-537.
Disclaimer
This framework was developed for the context of eHealth action research. Projects can differ greatly, making it challenging to find a balance between specific information and general advice that is applicable on a broader level.